For over 20 years Deltec GMBH have worked hard to develop the best specialist marine aquarium equipment available on the market and are known throughout the world for the high performance and quality of their protein skimmers. When their patent on the Deltec Pinwheel ran out it opened the market for other people to copy their ideas and to produce pinwheels of their own but without the 20+ years of experience and development that had gone into the Deltec products.
The new products have an E-T-A Ratio of around 60 to one and can produce 1500 lts of air per hour whilst using only 25W of power. Compare this with the current Deltec modified Eheim pumps, (already renound for their performance), which only produce 600 lts of air for 36W of power and you will understand why we are so excited.The TC name describes the special Twin Chamber design of the bubble chamber which is patented and has the benefit of pressurising the pumps for higher performance and ensures that only unskimmed water passes through he pump rather than reskimming and reprocessing water in the chamber.
The new bubble plate design allows the height of the skimmers to be reduced compared with the current range to allow them to fit in a greater number of installations and cabinets. The primary use of the bubble chamber is to prevent turbulence from the skimmer body and neck as turbulence can pull waste loaded bubbles back into the water column causing a reduction in efficiency. The air to water ratio is so high that there is almost immediate reaction with the waste therefore there is no requirement for the tall reaction chambers found on some low air skimmers thus keeping the units compact.
The new Deltec pumps also include innovative bearing design, the top shaft bearing now sits under the needle wheel itself thus optimising the suction side of the pump.
 A video of the new TC skimmer in action can be found below courtesy of poisson d'or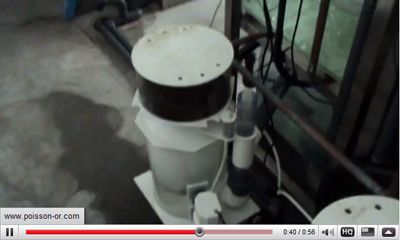 TC skimmer range specifications

SC skimmer range specifications